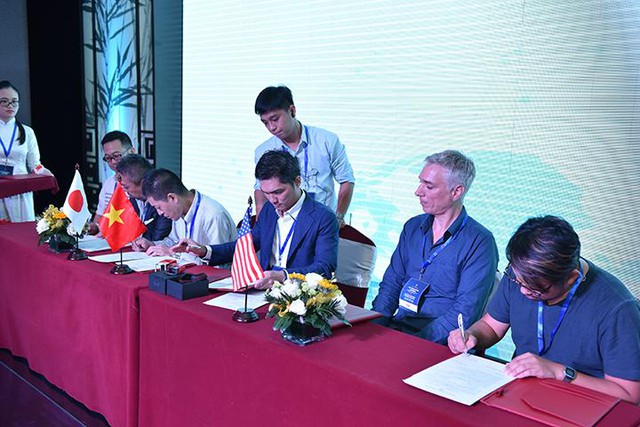 LINA Network has successfully cooperated with Asian corporations from Japan, Thailand and India.
At the same time, this technology also shows the ability to optimize by predicting the time the goods arrive. All information about the product will be immediately updated by all stakeholders in the series, so that they can be updated at all times.
Being honest about input is another strong point. Accordingly, there are two main input methods, either manually or completely. The input data will be managed and verified transparently by technologies such as Big Data and AI, so tampering with data will be eliminated.
"The application of Blockchain technology in the supply chain will help reduce or eliminate fraud, reduce transportation costs and delay with activities related to the supply chain," said Vu Thach Tam, CTO of LINA Network. In addition, the state will more easily manage, improve the national image, create an ecosystem around quality products with characteristics of the supply chain such as:
First, create a restricted supply chain – where all supply chain actors have explicit authority to create, view and modify data. Stakeholders wanting to be kept on the supply chain should have the right authority and be approved by the competent authorities. For example, to enter information related to the product temperature in the fruit drying chain of factory A will require the right of the unit directly in charge of fruit drying, and of the direct management unit. All steps in the supply chain are recorded on Blockchain with a timestamp, object to execute, action object.
Secondly, building an ecosystem allows third parties to participate independently in the system without having to rely on one party to register. (For example, Products). Regulators can also easily request access to data and directly inspect the Supply Chain data to create the most transparent supply chain ecosystem possible.
One example is the ability to cross border audition – for example, a Thai fruit enterprise exports to Japan and China will be subject to different standards. At the moment, this audit alone is costly and does not really create the trust. With LINA's Supply Chain, this can be done in parallel (because testers can be directly involved in the supply chain) and reuse some of their data (without fear of disclosure). Important Information).
Finally, to create a supply chain platform so that production units can easily customize their supply chain information, LINA's Supply Chain will be flexible to apply. Many manufacturing industries (with similar processes) do not need to rebuild from the beginning. For example, the current LINA Supply Chain will be applied to fruit producers (Aimthai) and seafood companies (Hi Chef). Vietnam has also used supply chain management but is based on traditional technology, which means that it can be edited and not verified. The Blockchain platform ensures transparency, immutability. And this is also the pioneering supply chain in the world on the Blockchain platform.